Sanibel Island and Captiva Island Helpful Visitor Information
Sanibel and Captiva Islands, lying in the Gulf of Mexico just west of Fort Myers, are internationally renowned for their beaches, shelling, fishing and wildlife refuges - and endless opportunities to just relax and enjoy the tropical island lifestyle.
Quaint seaside cottages, luxury resorts, beachfront villas, condos and a choice of hotel rooms offer accommodations for any taste and for any budget. No matter where you stay, you'll enjoy our miles of soft white sand, the soothing Gulf breeze and boundless natural beauty.
The islands have miles of scenic bike paths which meander along the Gulf shore, wind through wildlife habitats and quiet neighborhoods. By bike or by car, your island exploring trip may also take you to our renowned art galleries and an evening of professional caliber live theatre. Our island restaurants, bistros and cafes will please everyone's palate, and your shopping trips to our boutiques and shops will give you the opportunity to take home some of our unique island treasures with you.
*Welcome information thanks to "Sanibel-Captiva Chamber of Commerce and Visitor's Center"
SANIBEL/CAPTIVA HISTORICAL INFORMATION
Mileage from Florida Cities to Sanibel/Captiva:
Miami 148 Miles
Orlando 167 Miles
Tampa 134 Miles
Daytona 219 Miles
Jacksonville 311 Miles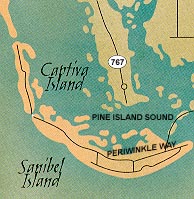 Click for View of Florida Map
Travel Articles
Sanibel Causeway
Blind Pass